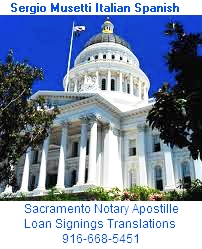 Sacramento Mobile Notary Public

Certified Loan Signing Agent - Spanish Translation - Apostille - Fingerprinting

Notarize your documents at your office or any location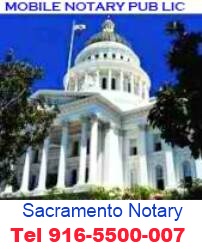 Besides general 24 hour Mobile Notary Public service at any location in West Sacramento or 30 miles from it, other services are provided: language Spanish English translation, California Apostille (Apostilla, Apostillado), certification, and authentication at the Secretary of State,  consulates and embassies, certified Signing agents catering  to escrow officers, lenders, banks, loan officers, processors, title companies, banks, mortgage brokers, realtors, loan consultants, real estate agents with legal, financial, Real Estate, business and personal documents.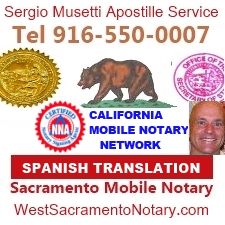 Mortgage Lending, Mortgage Banking, Commercial Mortgage, mortgage, lender, broker, interest rates, mortgage software, foreclosure, Loan servicing, origination.

TOPICS

Mortgage Branching

• Branching Jobs

• Top Branching Companies

• Branching Companies

• Mortgage Licensing

• Branching Recruiters

• Consultants

Mortgage Lending

• Loan Leads

• Industry News

• Associations

Real Estate

• Real Estate

• Property Services

You can advertise your service or company with banners/text
here
.
When  you put an ad they will display it in a group of lending sites too: